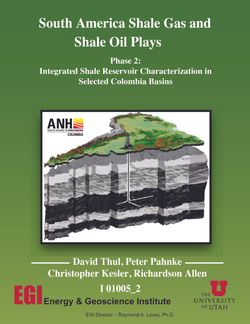 Value to Sponsors:
Establish an unparalleled understanding of shale resources in South America, enabling well informed exploration and exploitation decisions.
Evaluate facies, diagenetic history, microtectonics, fabric, texture, kerogen type and distribution, permeability, pore type and pore distribution at the core, thin section and SEM scales.

Expand detailed quantitative and qualitative comparisons between U.S. producing shales and South America's most promising shales.
South American Shales, Phase 2 I01005_2
Investment:
$156k  (USD)
Status:
Completed | Available For All Members
Principal Investigator(s):
GIS map database that will include geographic information, topography, shaded relief, satellite image, basin outlines, protected areas, surface geologic map, well locations, oil and gas fields, petroleum infrastructure, data and sample locations, interpretations, and location points derived from this study
Digital hot-linked report with particular emphasis on aspects that impact shale gas/liquid potential, including structural/tectonic setting, burial history, petroleum system, geochemistry, heterogeneity, fractures/faults, petrology, petrography, and rock properties, including key maps, cross sections, diagrams and tabulations
A ranking of the potentiality of the basins studied, including a geostatistical analysis of the most salient characteristics required for shale gas/liquids play definition
The over-riding objective of Phase 2 is to comprehensively build on the
knowledge, database, methodology, experience, contacts and signed agreements
of Phase 1. It is the intention to establish an unparalleled understanding of
shale resources in South America, enabling sponsors to make well informed
exploration and exploitation decisions. Phase 2 research will follow two major
avenues.
To collect reservoir-specific core samples to enable extensive testing and measurements. It will also include an integrated interpretation involving seismic and well data.

To use the experience, methodologies and relationships developed in Phase 1 to evaluate an additional set of basins, including:
In Depth Basins
Colombia:
Argentina:
New Basins
Colombia
Llanos

Lower Magdalena

Catatumbo

Cesar-Rancheria

Eastern Cordillera

Upper Magdalena

Sinu-San Jacinto
Argentina
Brazil
Chile
Uruguay
Paraguay
Continuation of Phase 1 Basins (In-depth Evaluation)
Continue the evaluation of selected basins and shales reviewed in South America Shales, Phase 1 Phase 2, exploiting the access to data afforded by the signing of agreements of cooperation with key organizations in Colombia, Peru, Argentina and Brazil. Phase 1 sponsor feedback indicates that the Neuquen Basin (Argentina), San Jorge Basin (Argentina) and the Middle Magdalena Basin (Colombia) should be included in the in-depth assessment. Additional basins may be added with a consensus of Phase 2 sponsors.
New Basins
This element of Phase 2 would involve a preliminary evaluation of additional South American basins (outlined in Objectives), following the pattern established in the Phase 1 project.
Data Sources
Data will be the EGI database, public domain, sponsor contributions and in-country universities and government agencies.
Your content goes here. Edit or remove this text inline or in the module Content settings. You can also style every aspect of this content in the module Design settings and even apply custom CSS to this text in the module Advanced settings.