ENERGY & GEOSCIENCE INSTITUTE
ENERGY RESILIENCE: DRIVING THE ENERGY TRANSITION, PROMOTING ENERGY SECURITY
FORERUNNER ON ENERGY RESILIENCE
Energy & Geoscience Institute (EGI) is a University of Utah research institute specializing in sustainable energy and mineral production.
Science, technology, and innovation are important drivers of energy resilience. In addition, they enable us to better understand and respond to the challenges we face and develop the solutions we need to create a more resilient energy future. Moreover, innovation is key to developing the technologies and systems that can help us adapt to changing conditions and build energy resilience into our infrastructure. As a result, scientific research plays a vital role in providing the new knowledge and understanding we need to make informed decisions about how best to respond to challenges.
The Energy & Geoscience Institute (EGI) is a multidisciplinary energy institute at the University of Utah. Over the years, EGI has performed groundbreaking geoscience research around the world, worked on innovative geothermal technologies, and developed a portfolio of carbon dioxide sequestration projects. Currently, EGI manages FORGE (Frontier Observatory for Research in Geothermal Energy), an EGS (Engineered Geothermal Systems) project funded by the US Department of Energy. In addition, EGI has added decarbonization and grid management expertise to provide integrated and optimized solutions across the entire energy value chain for the low carbon future.
Strength in petroleum exploration, well construction, production, and refining as well as in renewables and carbon management allows EGI to lead in the ongoing energy transition, while promoting energy security. Given these factors, EGI aims to deliver high quality research, knowledge, and data to solve problems related to hydrocarbon exploration/recovery, mineral extraction, geothermal energy, energy hybridization, renewable, and carbon dioxide management, in global collaboration with academic, industrial and government organizations.
In conclusion, EGI collaborates with industrial partners through its Corporate Associate Membership Program or through sponsored research projects and consortia. As a result, participants benefit from the discoveries, and by interacting with faculty, students and scientific staff while engaging in multi-sponsored, cost-shared research.
By partnering with EGI, you and your company are investing in science, technology, and innovation, we can build a more resilient energy future for us all.
EGIconnect
The EGI library catalog presented through the EGIconnect platform is undergoing updates that help define the study area and scope of reports, articles, dissertations, theses and maps more clearly. This update process enables the new EGIconnect search tool to quickly return available EGI library items within or near a client's area of interest. EGIconnect also has a new EGI library summary tool that generates a list and optional report of all available EGI library items within a client defined area of interest. Lastly, as a reminder, the map layers presented through EGIconnect can always be consumed by client-side GIS applications and ArcGIS online accounts.

iCORDS™
EGI's Integrated Continent-Ocean Research Data System – is a global database and analytic platform that offers data bank and research tool for worldwide energy exploration and geoscience.

Utah FORGE
Frontier Observatory For Research In Geothermal Energy – is a dedicated underground field laboratory sponsored by the Department of Energy for developing, testing, and accelerating breakthroughs in Enhanced Geothermal Systems technologies to advance the uptake of geothermal resources around the world.

2023 ANNUAL TECHNICAL CONFERENCE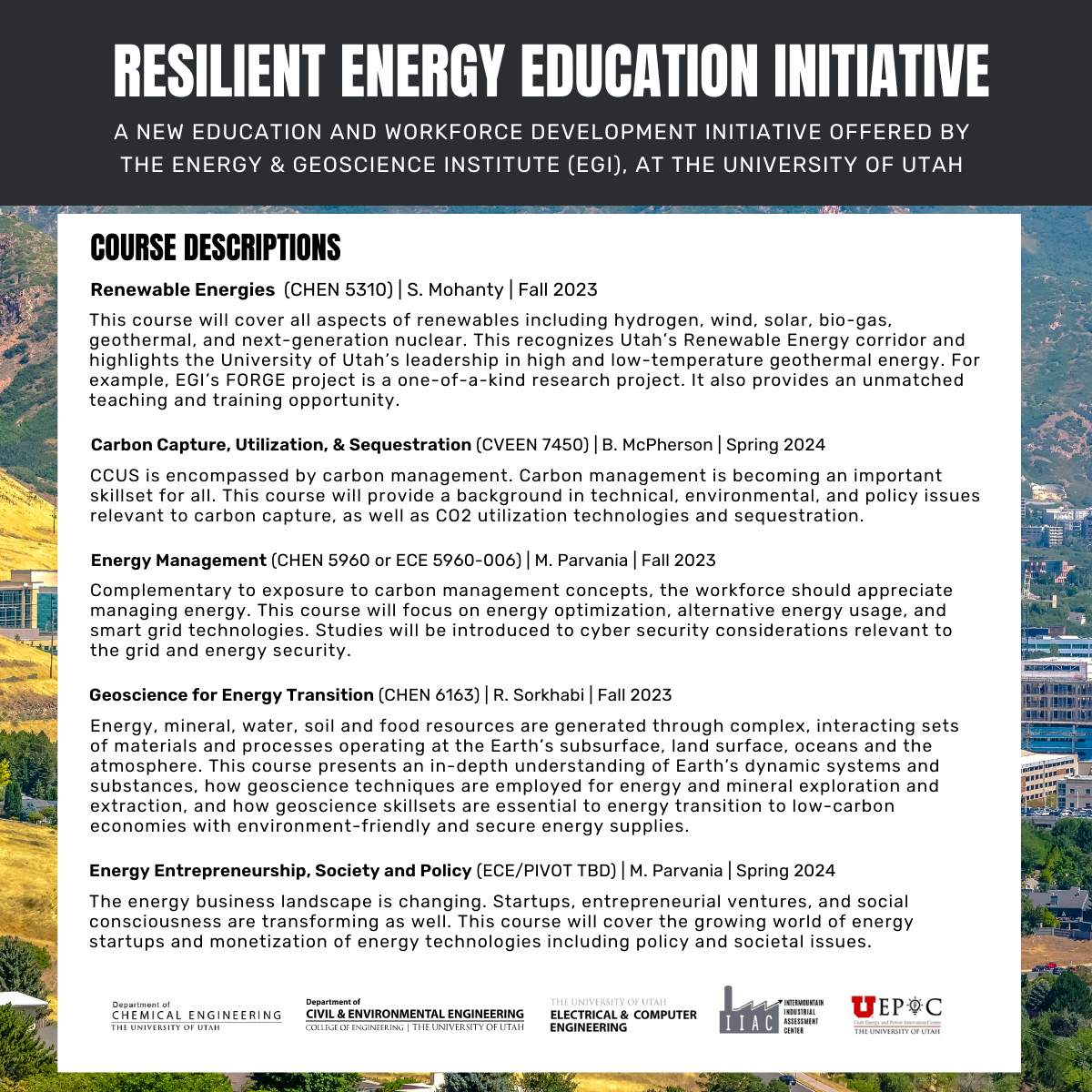 U.S. Secretary of Energy visits Utah FORGE team

Read here
May 9, 2023: Visit from Utah Senator Nate Blouin.
CORPORATE ASSOCIATE PROGRAM
EGI offers Corporate Associate members a competitive advantage in a highly competitive industry with our diverse staff of expert geoscientists, engineering researchers and innovative technical staff.
EGI's Corporate Associate members gain access to over $850,000,000 of regional and thematic research for only a fraction of their investment.
Innovative Technical Staff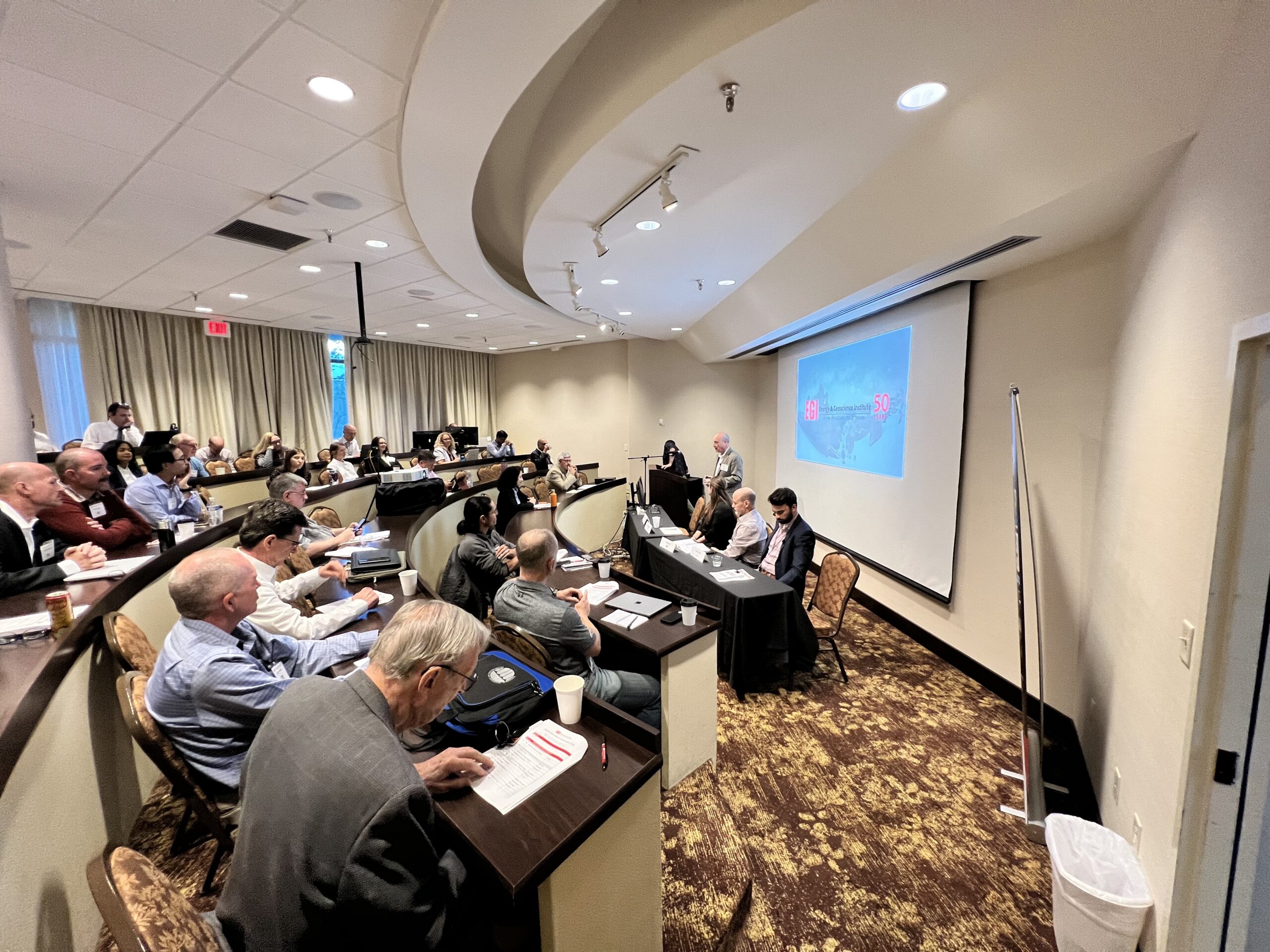 $850 MILLION+ GENERATED RESEARCH
200 CURRENT AND PAST PARTNERS