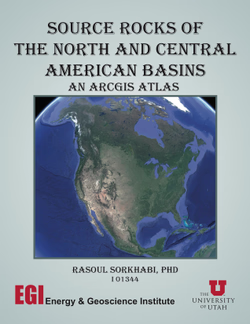 Value to Sponsors:
By better understanding the source rock characteristics of sedimentary basins in North & Central Americas based on a user-friendly database, explorationists can mitigate the risk of charge potential and hydrocarbon generation as part of the overall petroleum system.
A quick assessment tool for conventional and unconventional play analysis based on source rocks and for assessing data-poor and/or bypassed plays based on basin-scale correlatable source rocks.
Source Rocks of the North & Central American Basins I01344
Investment:
Status:
Principal Investigator(s):
An ArcGIS database of source rocks of North & Central American basins (USA, Canada, Mexico and Cuba and certain relevant countries) including basinal, stratigraphic, sedimentological, and geochemical attributes (e.g. TOC, Ro, kerogen type, pyrolysis, HC type, etc.) compiled from EGI's proprietary data archive, DSDP-ODP sites as well as from other technical publications.
ArcGIS maps highlighting distribution of source rocks in space and through geologic history.
North and Central Americas contain world-class petroleum provinces and have historically been prominent producers of oil and gas. USA alone is a pivotal market for oil and gas globally.
An appraisal of organic-rich and thermally mature sedimentary rocks lies at the base of the petroleum system analysis for both conventional (migrated) and unconventional (self-sourced) hydrocarbon plays. A quantitative knowledge of the distribution of source rocks in space and through time has important implications not only for the inventory of rich source-rock formations but also evaluating the geologic conditions favorable for source-rock sweet-spots and the generation of oil and gas in a basin.
The present study aims to assemble and digitize geospatial, geologic, and geochemical data on sourcerock formations of various basins in North and Central Americas in a user-friendly and query searchable ArcGIS platform enhanced with geological, geophysical, and paleofacies maps.
EGI, with its 46 years of research work in various basins and regions around the world, holds an impressive archive of >850 reports plus thousands of non-EGI reports and papers. The main objective of this study is to assemble and standardize a source-rock database primarily from EGI sources supplemented by newer, public sources.