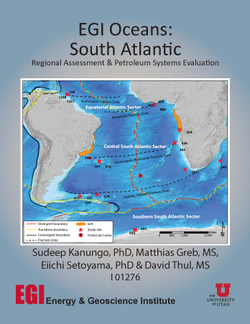 Value to Sponsors:
New core sample analyses of selected intervals from 20 DSDP-ODP sites in the South Atlantic with ArcGIS delivery in November 2015.
20 key sites from the South Atlantic conjugate margins (South America and western Africa), including one site (DSDP 249) from East Africa.

Concurrent chronostratigraphic, paleoenvironmental and geochemical analysis of up to 200 samples from critically identified gaps.

Source rock related Cretaceous and Jurassic intervals for Hydrocarbon Analyzer with Kinetics (HAWK™) geochemical analyses; quality control and new data generation using modern HAWK™ instrumentation.

At least 1000 new data points (from the 200 samples) resulting from chronostratigraphy and geochemical measurements will be added to the regional synthesis dataset.
EGI Oceans – South Atlantic – I01276
Investment:
Status:
Completed |

Available For All Members
Principal Investigator(s):
Improved age re-synthesis: Based on interpretations via new sample acquisition and analysis that have indicated some large shifts, especially in the Falkland sector.
Paleoenvironmental interpretations, and data-permitting, paleofacies maps for selected intervals, e.g., Tithonian, early Aptian, mid-to late Albian.
Improved chronostratigraphic cross-sections will illustrate the regional chronostratigraphy and distribution of biofacies, data permitting.
Source rock characterization for richness, maturity, kerogen type, and kinetics as well as petroleum systems integration
Geochemical logs: Posted depth standardized data for geochemical log for age-depth interpretation of results.
Anhydrous pyrolysis kinetic values for elected source intervals.
In 2013 the EGI Advisory Board challenged the institute to evaluate the hydrocarbon potential of major continent and ocean systems. Major multi-billion barrel oil discoveries in the deepwater of offshore Brazil and West Africa have confirmed the frontier opportunity of a revised understanding of the petroleum systems. The global EGI Oceans initiative to recalibrate the stratigraphy and evaluate the petroleum systems of major Ocean basins during the next decade has initiated with a regional analysis of the South Atlantic Ocean (Region 1).
Starting from over 100 DSDP-ODP sites across the South Atlantic, 20 key sites penetrating the maximum stratigraphic section on the conjugate deep water margins of South America and western Africa (W and SW Africa), have been analyzed via shipboard (cruise) and post-shipboard data (post-cruise). As a result, up to 35,000 data points from 6800 samples, encompassing multi-disciplinary biostratigraphy and geochemistry, have been added and curated through the completed regional analysis of the 20 sites. The results highlight stratigraphically older sections, especially in the Falkland sector (e.g., Lower Cretaceous and Upper Jurassic) where rich source rock intervals provide both regional and localized sub-basin opportunities for significantly undervalued, and in some cases, unrecognized petroleum systems.
Up to 200 samples have been selected for analysis from the 20 study sites in the South Atlantic to augment regional synthesis results that have been completed recently. These samples will be culled at approximately 10 m intervals from the identified gaps for concurrent biostratigraphic and geochemical analyses. Table 1 (Appendix) demonstrates the sampling strategy for the three study sectors of the South Atlantic.
Chronostratigraphy Methodology
The composite standard methodology of absolute age calibration via the graphic correlation technique will be employed for the new sample analyses. EGI's proprietary South Atlantic Composite Standard, compatible with GTS 2012, will be used to maintain consistency with previously completed analyses.
Source Rock Analysis
The samples collected will be analyzed using standard methodologies to assess kerogen richness, quality, kinetics, and prepared for molecular chemistry evaluation. The richness (total organic carbon) will be analyzed using Hydrocarbon Analyzer With Kinetics (HAWK™) pyrolysis. Likewise, the kerogen quality (hydrogen and oxygen indices) will be measured using HAWK™ pyrolysis. Source rock kinetics will be analyzed using anhydrous, multi-run kinetics on the HAWK™ instrument due to limited sample unsuitable for hydrous pyrolysis techniques. If low to moderate maturity samples are found, they will be extracted in Dichlo.